What is LUTRONIC ULTRA?
LaseMD Ultra is capable of restoring your skin's natural youthful appearance with a 20- minute full resurfacing treatment removing up to five years of aging leaving you with glowing, revitalized skin, and a fresh new appearance. The Ultra is a non-ablative, fractional laser that gently rebuilds hair and skin. We are able to customize the setting to be as gentle or aggressive as we need to treat a myriad of skin issues. This unique customization creates beautiful results for our patients.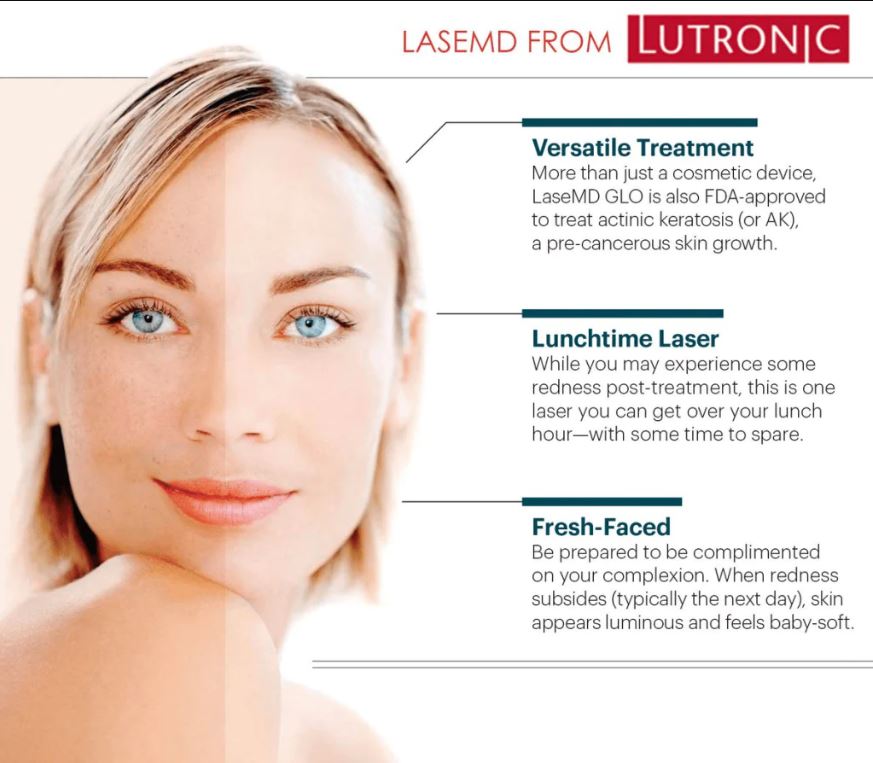 WHAT DOES IT TREAT?
Hair loss / thinning
Pigment – sun spots, freckles, actinic keratosis, pigmented lesions
Active acne
Acne scarring
Fine lines and wrinkles
Dullness
Overall skin rejuvenation
Enlarged pores
WHO SHOULD CONSIDER ULTRA:
UTRA can be used on any skin type and skin color.
LaseMD ULTRA uses non-ablative energy to gently heat tissue in the deeper layers of your skin while leaving the surface layer of skin intact.
As you age, collagen and elastin levels decrease, paving the way for fine lines, wrinkles,
and sagging skin. LaseMD ULTRA creates microchannels in the skin that stimulate the
body's natural ability to produce collagen and elastin, the two most important proteins
that play a key role in the quality of your skin.
ULTRA treatments can be performed any time of year. There is no downtime needed. Numbing is an option for more aggressive treatments. The procedure takes around 20 minutes and daily activities can be resumed immediately after.  Sunscreen after each treatment is a must.